This page is for general discussion, hints and tips, etc, and how to get the best out of our body products. If you have ideas to share on this subject, please email them to us so we can post them up here. Any photos would also be very useful.
Difficulties with buying certain items
If you have bought any of our body 'software', and find it difficult to buy any items which relate to these body parts because of your personal situation, such as bras, tops, chokers, necklaces, etc, you can contact us in this regard. We may be able to purchase them items for you and then post them off to you. If this is of interest to you - contact us.
Croptop perfection info sheet update:
We have just finished putting the latest information sheet together from peoples' experiences on how to get the best out of your Croptop. This relates to the easy way to put your top on, and how keep you breasts looking perfect while on display to keep everyone presuming that they are home grow, and other useful information.

If you are a Croptop owner, and would like a copy of this info sheet, email us anytime
Low-Cut tops
Here is a quick, low cost and easy way to modify a standard (boring) top into a hot little number.
Go down to your local Matalan store (or any similar general clothing store), or keep a look out for these long sleeve, polar neck tops on your travels. These ones are made from light and heavy t-shirt type material. If you like white tops, and don't want everyone to see your bra underneath, then it's a good idea to choose one with thicker material, or wear it with a jacket.
You could of course make any similar design of top/dress/etc into a low-cut top.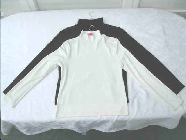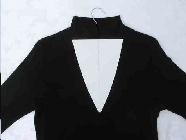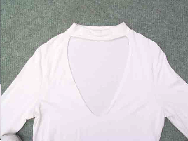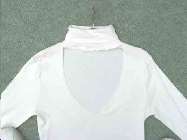 Low-cut template
Make a template out of cardboard, as in the picture. If you want something a bit diufferent, you could go for an a-symetrical shape. If you have a very stretchy top, then only make a narrow 'V' to start with, because it will expand when it has to fit over your breasts, especially if you choose a top that is quite small.

It may be a better idea to go for a polar neck top which is a size or two bigger than a standard figure hugging fit on you.
Making the cut

Don't forget when you do your designing and measuring to allow for a 1/4" to a 1/2" seam. Also remember that if the top is fairly see-through, then the outermost cut in the fabric needs to be neatly done, because you will see it through the fabric when it is folded over and sewn in place.

Also leave about a 1/4" extra fabric below the original seam on the bottom of the polar neck. This can then be folded over and sewn from behind.

A pencil was used to draw around the template. If you have a darker top, then use a white pencil crayon, or
Ready to wear
Here is the top after the hand-sewning has been completed. The whole job took less than half an hour. It would be a good idea to try the top on once you have made the rough cut to see how much cleavage you will be showing to the world. At the same time, if your top has a high neck, you can fold it over and mark it. Then you can cut the neck down, fold over the ends and sew them, as with the neck in this picture. Make sure that the top of the neck of your Croptop can't be seen above the neck of your top. If you use fabric that is very flimsy/loose, you can always do a 'Kylie' and use some 'tit-
Low-cut tops in action
As promised, here are some photos we took recently to show you what the modified low-cut tops above look like. There are of course plenty of exposure hole/slit/opening designs that can be cut into these polo-neck type tops to create all sorts of effects, depending on what look you are keen on. We're sure that those who are handy with a needle will be able to create all sorts of amazing designs. If you are using thin, stretchy material, then you might find it best to start off with a template smaller than the final opening required, otherwise you might find yourself showing off more than you thought! The white top below is made from quite thin material, as you see from the bra visible underneath. I'm sure a lot of fun can also be had by using nearly see-through material, with a nearly see-through bra underneath. If you are out walking at night and car-drivers slow down and start offering you money - you might have gone a bit too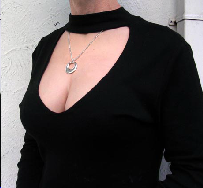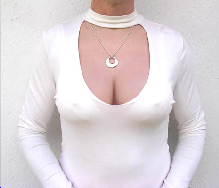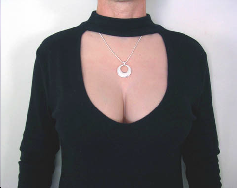 Croptop Skin Tones
These photos are good examples of the differences in skin colours. This croptop was actually made in error for someone in Sweden. A C cup was ordered and we manufactured a D cup (oops!). So, this is why the skin tone of this cleavage top differs from the neck of the wearer, as it was not colour-matched to it. Having said that, most people's neck catches the sun over the summer. Coupled with this, if you wear some foundation on your neck to make you neck skin look more even, then this top wouldn't be far out in the cooler months as the sun vanishes in the Northern Hemisphere for months at a time.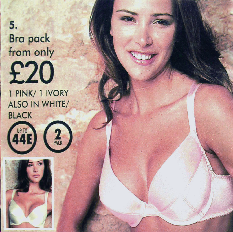 Bras and Croptops

As we have said elsewhere on this site, a correctly fitting bra is paramount for getting the right looking boobs, whether single breasts, or Croptop breasts. The bra design in this photo is a good example of what works well with our cleavage tops. Basically, any bra which has cups that touch each other in the middle, and one where the cups are joined together at the bottom of the cups (or nearly at the bottom). If bras are underwired, then these wires should be removed, to allow your breasts and the bra cups to work together better. This advert is for bras up to 44" (we have another ad for bras up to 50"). As in our Croptop care notes, it is best to go for a bra slightly larger than normal, otherwise, it will be too tight around the body. Also, you should choose a bra cup, one size smaller than your breasts, otherwise the cups might be a fraction too wide (because of the bigger bra). Contact us anytime if you want more info on this. We supply a good fitting bra with each Croptop, and full detailed pictures of good bra types, and how to modify them if required.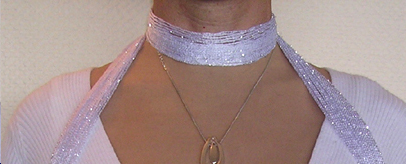 Croptop neck disguise
This photo is a good example and yet another way to cover the Croptop's neck joint. These long scarves are very fashionable, and this one comes from New Look (in the UK), but many other stores have them in stock. The slight weight from the long length of the scarf if perfect for keeping a gentle snug fit around the neck. As the scarf is very thin, it forms a very low profile against your neck - ideal for the warmer months.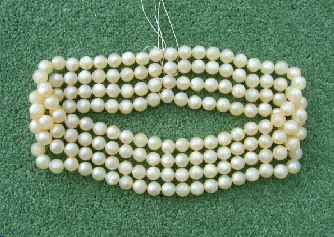 Pearl Chocker
Here is another good idea for the neck coverage. Pearl type beads were purchased from the local craft shop, along with 1mm elastic thread. The beads all have a hole right through them. Extra holes were drilled into about 15% of the beads, at right angle to the existing holes. Small pieces of toothpics were Superglued into a vertical line of 4 beads. This chocker has 7 lines of 4 vertical beads. The thin elastic is then threaded through the 1st glued bead, with 6 more loose beads threaded, then through the top bead of the next vertically glued beads. Enough beads were used to go all the way around the neck, so as not to leave gaps.

Then the 2nd row of beads is threaded through, and so on until all 4 rows have been threaded.

This one took about 1/2 hr to make, is very flexible to go over the head and fit smoothly against the neck. You can buy these types of chockers (and lots of variations of) at lots of stores if you look for them - otherwise you can make
Croptop clothing options:
Here are some links to websites which have a good selection of outfits which will work well with your cleavage breasts. You If you wear clothing that exposes the shoulder straps, you can use a shawl/wrap, bolero or jacket, etc to hide this area. If you have other online stores with similar clothing, please let us know.
http://stores.ebay.co.uk/THE-BLUE-BANANA
http://stores.ebay.co.uk/BLACK-BERRY
Ready made Cut-Out tops:
If you are looking for a cut-out top with a built-in neck to add to your wardrobe, there is a online store now offering these designs. They are nice and stretchy so will fit your breasts nicely, and move with them well. 4 colours are on offer. Look up http://www.kaleidoscope.co.uk then tops...blouses about 4 pages in. There are also lots of other tops which they offer that can be used with the cleavage croptops.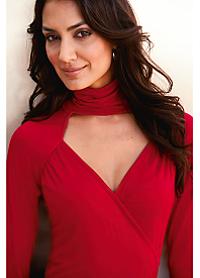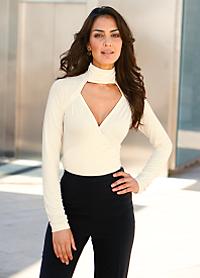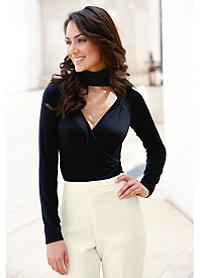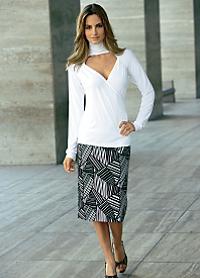 If if it difficult for you to order these items, or any other related items, let us know and we can order them for you. If you have a croptop on order, we could then post out one of these tops with your order, so you'll be ready to go from day one.